This post is also available in:

English

فارسی

العربية
Learn a Moroccan dish using peas and eggplant
He prepared different dishes from chickpeas and eggplants, and in this article, we have considered how to prepare Moroccan food. This delicious dish is prepared using peas and eggplant. The authenticity of this Moroccan dish goes back to Morocco. But due to its delicious taste and health, it has found its special fans in countries such as Iran. The ingredients of this food can be easily found in Iran and its cooking is very economical. Then join Rijan Tourism Restaurant, the best restaurant in Rasht, to teach you how to prepare this different food.
How to prepare Moroccan food
Moroccan food has an attractive appearance and delicious taste and attracts all tastes. Due to the high nutritional value of this food, it is recommended for all age groups. In this article, the necessary materials are provided for 8 people. Prepare it and enjoy it with your family or go to the beautiful restaurants of Rasht and enjoy it.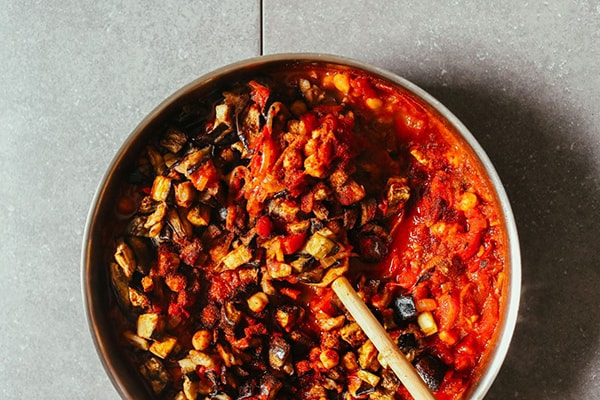 Ingredients for preparing Moroccan food
| | |
| --- | --- |
| ingredients | the amount of |
| Eggplant | 4 number |
| Garlic | 5 pieces |
| Cooked peas | Two measures |
| an onion | A number |
| paprika | A tablespoon |
| olive oil | 4 spoon |
| Water | enough |
| tomato | 4 number |
| Brown sugar | 2 spoon |
| Cumin | A tablespoon |
| hot sauce | 3 spoon |
| tomato paste | 2 spoon |
| Sea salt | A tablespoon |
Moroccan food recipe
You can first soak the chickpeas in the chickpeas for 24 hours, then boil them. In the next step, chop the eggplants into cubes and add salt and oil to it. Turn on the oven to heat, then place the eggplants on a tray and place in the oven to fry well.
Chop the tomatoes into cubes like eggplant and fry with some oil and tomato paste. Chop or grate the onion and fry it until it becomes caramel in color and smells raw.
Chop and boil the tomatoes and fry with the tomato paste. Chop the garlic and add it to the onion along with the cumin and roasted tomatoes and fry again.
Add some water to your prepared ingredients to boil a little. After the water boils, add the cooked chickpeas, brown sugar, hot sauce and eggplant to the ingredients and mix.
Close the lid and turn down the stove flame and let it cook for 15 to 20 minutes. Finally add paprika and some salt to the dish.
Properties and benefits of Moroccan food
This food is a low-calorie yet nutritious food.
This food is one of the very simple foods whose raw materials are cheap. Hence it is a good option for a simple meal.
This food is a rich source of vitamins C, K, B and D.
As you know, vitamin C plays an essential role in strengthening the immune system, so including this delicious food in your diet will help your body supply a lot of vitamin C.
Cooking this food does not require much time. It is a good option for employed people who have a lack of time.
No meat is used in cooking this food and this has made it one of the nutritious foods for vegetarians.
Chickpeas are a high-protein legume, and adding them to Moroccan food doubles its nutritional value.
---