This post is also available in:

English

فارسی

العربية
Recipe for preparing two delicious and authentic Gilani meat dishes
Each city and province has its own local food that is cooked according to the style and taste of where they live. These foods may be cooked in different ways in other cities, but it must be remembered that each food has its own originality. Reezhan Tourism Restaurant, as the best restaurant in Rasht, in this article, has considered the method of preparing two models of Gilani meat dishes so that you can prepare and taste it in an original way.
Recipe for preparing two Gilani dishes
If you have traveled to Rasht during your life and have gone to local restaurants in Rasht . You must be familiar with the unique taste of Gilani food. The people of Gilan are among the people who, in addition to having a variety of food, also pay attention to the hot and cold nature of food. Then join us to share with you how to prepare two Gilani meat dishes.
How to prepare Fashtanjan in Rasht style
Gilanis usually prepare fosanjan instead of chicken with duck. The duck in this stew is cooked and served properly and depends on the taste of the people.
Ingredients for preparing porridge
| | |
| --- | --- |
| ingredients | the amount of |
| Grinded walnut kernels | 750 g |
| Pomegranate paste | A cup |
| salt and pepper | enough |
| Cleaned duck | A number |
| Pomegranate sauce | If you would like |
| Water | 5 measures |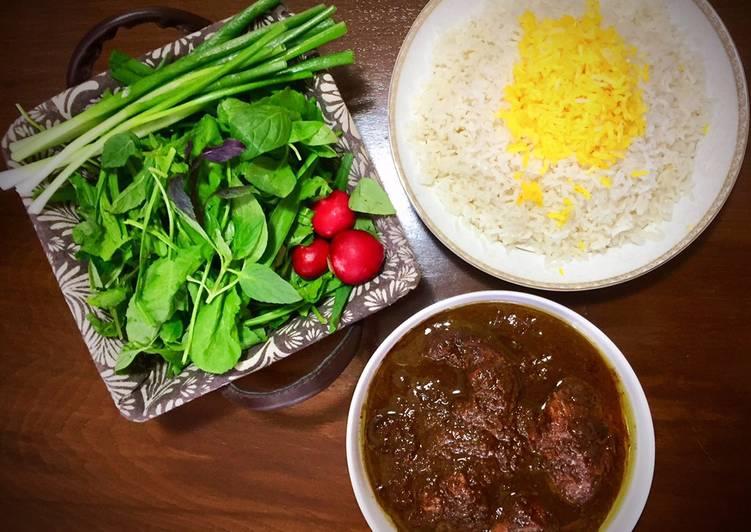 Recipes
First, pour the walnut kernels with five cups of water in a large bowl and put it on a gentle heat with the duck to cook slowly. After about two hours, your duck will cook. Then add pomegranate paste with a little salt and pepper to your dish and let the stew cook for 30 minutes on low heat. You can leave the stew slightly open when cooking. After cooking, you can serve with rice in any way you like.
How to prepare Gilani plum stew
Plum stew is definitely one of the delicious foods that its origin goes back to Gilan province. Its taste is sour and sweet, and as its name suggests, plums are used in its preparation, and most of this stew is prepared mostly with chicken.
Ingredients for preparing plums
| | |
| --- | --- |
| ingredients | the amount of |
| plum | 8 ones |
| Chicken breast or thigh | 4 pieces |
| an onion | 2 medium numbers |
| Dried apricots | 8 ones |
| Oil | enough |
| Spices | enough |
| tomato paste | 1 spoon |
| Brewed saffron | 1 tea spoon |
Recipes
First, wash the chicken pieces and then sprinkle salt and pepper on them. Choose a suitable pan and pour some oil in it and put it on a gentle flame and wait for the oil to heat up. Then place the chicken in a pan and wait for it to fry. After frying both sides of the chicken, take them out of the pan and set aside.
Then chop the onions finely. Pour in the dish in which you want to make the stew and fry. Of course, add some oil to the pot. Once the onions are golden, add the turmeric to the pot.
Add the plums along with the ghee to the pot and fry them a bit and then add a spoonful of tomato paste to the pot. Stir the ingredients well to mix well. Then fry the ingredients until the tomato paste turns red and changes color. After changing the color of the tomato paste, add the required amount of salt and pepper to the ingredients in the pot.
Then add the fried chicken to the dish and add a few cups of boiling water to the pot. And wait until the plum stew is cooked over a gentle heat and the water evaporates a little. This stew is usually served with a little water. Finally, add brewed saffron and serve with rice after preparation.
---