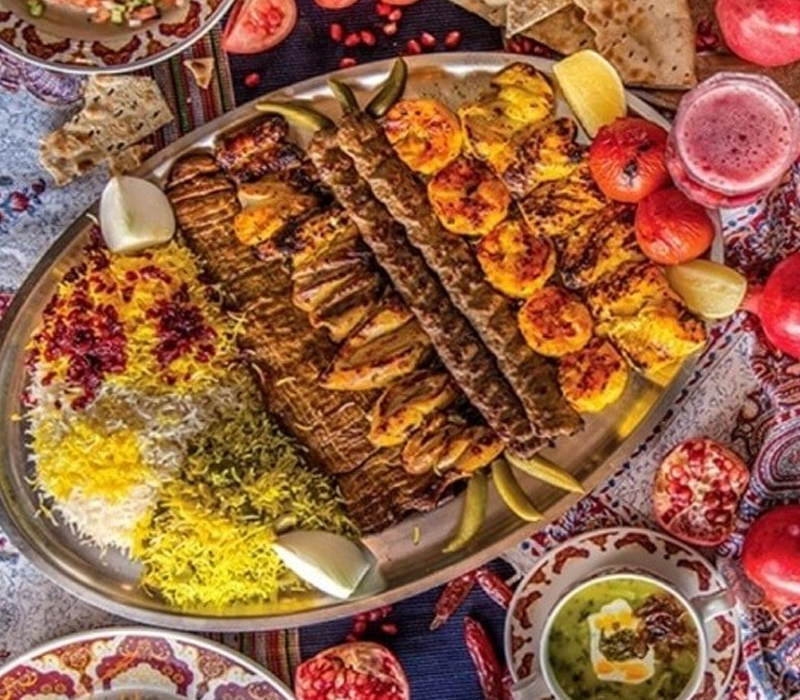 This post is also available in:

English

فارسی

العربية
Decorated and picked suitable for a variety of Iranian kebabs
Kebab is one of the most popular and delicious Iranian dishes, which makes it more beautiful and delicious. There are different types of kebabs. One of the most delicious of them is Kermanshahi Kebab ribs , this kebab is one of the popular and native foods of Iran.
Reezhan Tourism Restaurant, one of the restaurants in the beautiful city of Rasht , serves this dish in a genuine Kermanshahi style. You can taste this awesome food in the best restaurant in Rasht.
Durchin is suitable for all types of kebabs
Kebab broth can give it a special beauty and multiply people's appetite. In this article, some models of durchin suitable for different types of kebabs are presented to you.
Durchin for grilled chicken
One of the most popular dishes at parties that you can combine with great creative and new ideas.
Coriander and parsley vegetables are one of the best pickles for grilled chicken, which gives it a unique taste and aroma.
Sour lemon, sliced ​​onion and pepper are other suitable items for grilled chicken.
Grilled tomatoes next to grilled chicken in addition to color contrast that increases appetite. A hedge is created with a beautiful and charming appearance.
Durchin for grilled kebab
Kebab Kobideh is one of the most popular types of kebabs among people. This food is served with different and varied dishes.
The use of lemon zest is also medically useful for grilled kebabs in addition to its beautiful appearance. Both make the kebab better digestible and the vitamin C in its lemon helps the kebab absorb iron.
Grilled tomatoes are one of the excellent pickles for shredded kebabs, which give it a pleasant taste.
Sumac powder along with shredded kebab increases its nutritional value and makes it easier to digest. You can use some sumac next to your serving dish.
Grilled peppers, sliced ​​onions, basil and pickles are some of the things that can be used for pickling.
Pickles such as cauliflower pickle or Bijar week are also used for pickling kebabs in the winter, when less fragrant vegetables are found.
Durchin for grilled fish
Different ideas can be used for grilling fish. It depends on the model of your dish and the nature of what you use.
Lemons and oranges are popular for serving fish. You can use these two in the form of laminates in your cell.
Cooked vegetables such as carrots, broccoli and cauliflower are suitable for grilling fish due to their properties and color variety.
Types of olives such as cultivated olives, black olives and هستند are very suitable for use in grilling pines due to their compatibility with fish.
Onions, parsley, radishes, cherry tomatoes, coriander and parsley are other items that can be used for grilling fish.
Fried or grilled potatoes, pomegranate seeds, peas and peppers can also be used to decorate grilled fish.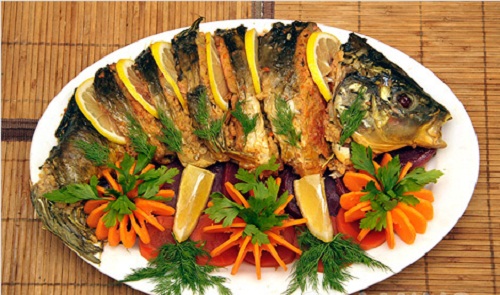 Durchin for liver kebab
Liver contains a lot of iron and folic acid, which, in addition to its many properties, can be harmful to the body. This food is better to be served grilled due to its high calorie content.
Vegetables such as parsley and coriander are very suitable for garnishing the liver. In addition to the beautiful appearance that they give to the liver, these vegetables also help to absorb its iron.
Durchin for meat steak
Steak is a very popular and protein-rich food, which is a bit difficult for the body to digest, and by choosing the right ingredients, we make it easier to digest.
Cooked green beans are one of the most suitable steaks for steak due to its high fiber and vitamin content.
Cooked vegetables such as carrots, squash, and peppers are also good steaks that help digest them.
Sour lemon is one of the suitable ingredients for red meat, which also preserves its nutritional value.
---