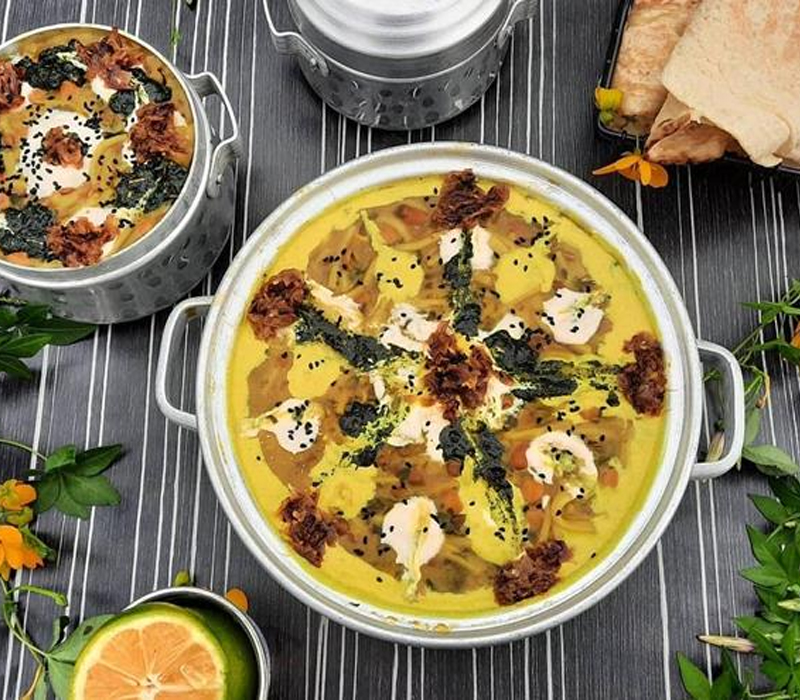 This post is also available in:

English

فارسی

العربية
Tarkhineh soup recipe and a few tips in its preparation
Tarkhineh soup is one of the traditional Iranian dishes that is very popular and popular. It's a watery soup made from fermented milk or buttermilk. Lorestan, Kurdistan, Ilam, Kermanshah and Hamedan are among the provinces that use this soup a lot. Also, Rijan Tourism Restaurant, the best restaurant in Rasht, has considered this delicious dish for you to enjoy its unique taste by ordering it with friends and family in a cozy restaurant in Rasht .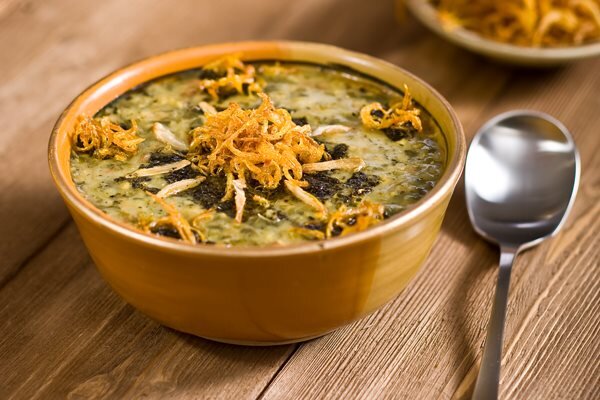 How to prepare Tarkhineh soup
Tarkhineh soup is one of the famous foods in the treatment of colds, which is highly recommended in the cold season. This food has a mild and dry nature and its skin has a warm property and its brain has a cold nature.
ingredients
| | |
| --- | --- |
| ingredients | the amount of |
| Pinto beans | Half a cup |
| fried onion | To the extent necessary |
| Hot garlic | To the extent necessary |
| Tarkhineh Doogh | 3 Number |
| Vegetable soup and spinach | Half a kilogram |
| Spices | To the extent necessary |
| Hot mint | To the extent necessary |
| Pea | Half a cup |
| Lentils | Half a cup |
First, soak the tarkhineh in a bowl of cold water for about three hours. Also, the beans should be soaked from the night before and cooked on the stove with water the next day.
When the beans are undercooked, add the soaked tarragon. Then when the beans are cooked, add the lentils and vegetables.
Peel a large onion and wash it in a separate pan. Then cut or chop and fry in oil. When your hot onion turned golden. You can add spices according to your taste. Then let the soup simmer over low heat. If you want, you can add some curd to your soup according to your taste.
Once the soup is ready, you can decorate and serve it to your taste. Use hot onion, hot mint and hot garlic to decorate and make Tarkhineh soup more delicious.
If you decide to make tarkhineh at home. You can wash a glass of wheat or barley semolina and let it soak in cold water for 7 hours. Then pour in the dough, which is several times that of wheat, and let it cook on the heat. Add a little turmeric, pepper, mint and saffron, and when you feel a paste, turn off the heat and let it cool. Then take some by hand and roll it into a ball and let it dry in the tray under the hot sun.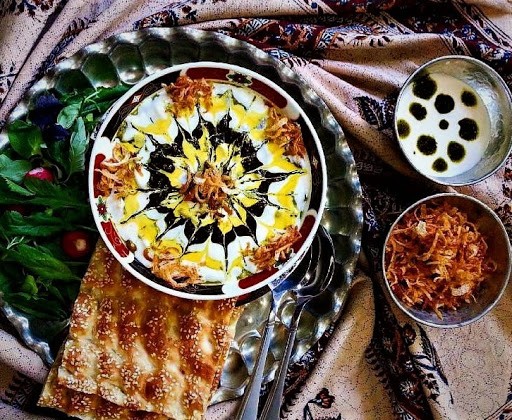 Tips in preparing Tarkhineh soup
In the city of Malayer, Tarkhineh soup is usually added with pen water and in addition to the vegetable soup, another local vegetable called safflower is added to it. Grated and fried tomatoes are also sometimes added to tarkhineh soup. Some people make this soup with water.
The method of preparing Tarkhineh soup is different in each region. For example, Tarkhineh Kermanshah, Malayer and Boroujerd are slightly different.
If you wish, you can also add meat to the soup.
You can also use a little curd to decorate Tarkhineh soup.
To make hot mint, soak some dried mint in some water and then rinse. Fry the mint in a little oil to change the color of the mint and make it a little darker.
You can also use red beans instead of pinto beans.
---