This post is also available in:

English

فارسی

العربية
How to prepare Kal Kebab, a delicious and authentic Gilani food
Each of the northern dishes has its own unique flavor, all of which are strangely appetizing. Kal Kebab is one of the delicious dishes of Gilani in which very simple ingredients such as garlic and eggplant are used. Kal Kebab Gilani is sometimes confused with Naz Khatoon Mazandarani.
Cal kebab is usually served as a side dish, dessert or flavor and has a unique taste. One of the positive points of this traditional food is its low cost and also its raw materials are available.
In this article, Reezhan Tourism Restaurant, the best restaurant in Rasht, has considered the method of preparing this authentic Gilani food for you so that you can prepare this delicious food at home. You can also go to restaurants in Rasht to experience it in an authentic way, to experience the taste of this great food along with a unique Rasht food.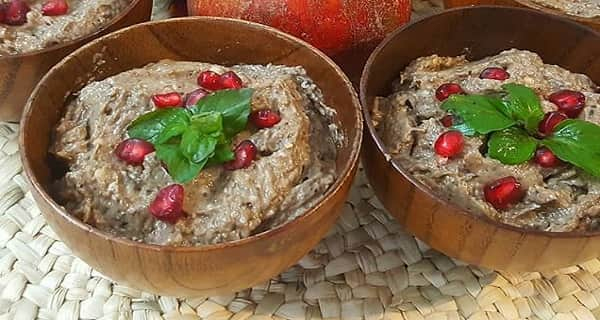 Ingredients for preparing kebabs
| | |
| --- | --- |
| ingredients | the amount of |
| Eggplant | One kilogram |
| Walnut | 150 g |
| Dried garlic | A plant |
| Aromatic herbs or mint | Two tablespoons |
| Salt | enough |
| Pepper | enough |
| Pomegranate paste | A cup |
How to prepare
First, wash and dry the eggplants well. Then grill the eggplants until they are well cooked. You can also use an oven or stove when grilling eggplants, but charcoal creates a special aroma that will lead to an original taste. Chop the walnut kernels using a meat grinder or grinder so that the texture does not disappear and you feel its roughness.
Peel a squash, grate it and squeeze the juice. Then mix the walnuts and eggplant. In the next step, you can chop or mash garlic and add it to your ingredients along with vegetables.
Add the pomegranate paste to the ingredients and mix the ingredients well and stir. Finally, add salt and pepper and put the prepared ingredients in the refrigerator for a few hours to get a better taste.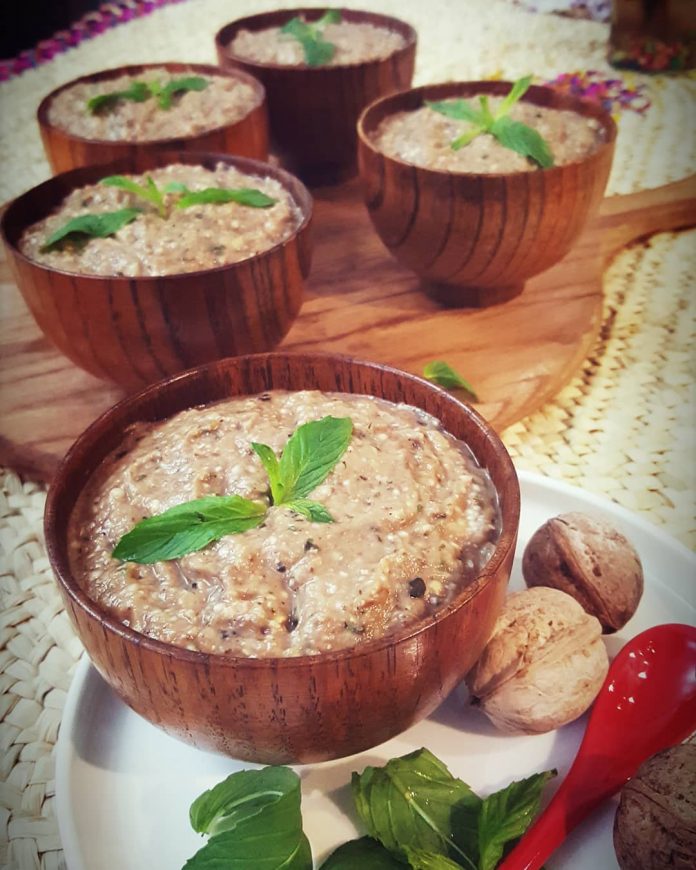 A few important points in preparing Kal Kebab
If you remove walnuts from your food and add water to it, your Kilab Gilani cake will become Nazkhatoon Mazandarani.
If you do not have local vegetables, you can use mint to make your kebab fragrant.
You can use pomegranate seeds, olives or fresh mint to decorate this dish.
You can add angelica to your kebab to create a good taste and multiply its properties.
To make the eggplants grilled faster and easier, make a vertical cut in the length of the eggplants with the tip of a knife.
Cal Kebab can be served as an appetizer at any meal.
In northern cities, people serve kal kebab as a flavor or condiment along with foods such as belly fish, bagels, fesanjan, and so on.
Properties of Kal Kebab
The presence of high fiber in cal kebab helps to improve the function of the gastrointestinal tract and facilitate digestion.
The potassium and calcium in eggplant are very good for strengthening bones.
You know that walnuts are rich in phosphorus and omega-3 and its combination with the calcium in eggplant plays an important role in maintaining good health.
As a food rich in antioxidants, this food plays an important role in increasing the strength of the immune system.
Including this authentic and delicious food in the diet will also relieve muscle pain caused by rheumatism and arthritis.
Cal kebab is a nutritious and nutritious food for vegetarians that can be a complete meal for them.
---